Adrian J Cotterill, Editor-in-Chief
Day one in Monte Carlo at the Social Media Marketing and iCommerce Summit 2011 saw far too many US centric examples from pretty much all the speakers BUT also surely saw two of the greatest brains in the social sector impart so much knowledge, wisdom and vision it's difficult to know where to start.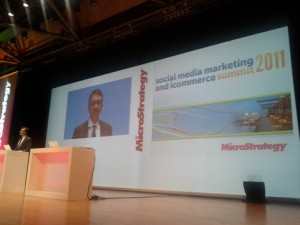 Karl-Heinz Land, Chief Evangelist & Senior Vice President, MicroStrategy kicked off the two day event with a brief introduction to MicroStrategy (more on that later).
Brian Solis, Book Author, Digital Analyst, Sociologist & Futurist presented "Engage or die!" a man who drinks no vendors Kool Aid, says it how it is in a very entertaining easy to listen to style. Brian was on stage for one hour 15 minutes but the presentation seemed to fly by. His (old) book and his forthcoming book 'the end of business as usual' will be on our reading list as soon as we get back and the new one is out.
Michael Saylor, CEO and Co-Founder, MicroStrategy Inc. fancies himself as a bit of a 'speaker' but he wanders off topic so often it is difficult to walk away from one of his presentations (we were subjected to three of them during the two days) with any real takeaways. He talked of four megatrends shaping the industry; mobile, cloud, social and big data. It made sense but he ought to read some of Guy Kawasaki's notes on presentations and how one gets a message across and how an audience walks away with the right message (shorting RIM stock, how Nokia might die and picking up an Belgian super model were probably not the most important messages of the day).
Don Peppers, Founding Partner, Peppers & Rodgers along with Brian was the other star of the day and we are lucky enough to have him present on day two for a second time. On the Tuesday he spoke about 'From CRM to Social CRM' but covered much, much more. His knowledge of brands, marketing and how the agency world works set him apart from every other speaker we usually hear go on and on about social media.
Martin Hubert, CEO, eprofessional/Axel Springer group had the unenviable job of keeping delegates away from drinks, dinner and a disco BUT at last we had someone who spoke about social media in Europe.
Overall a great day one conference. It perhaps needs a little tweaking but well worth the time and money spent in attending.