Adrian J Cotterill, Editor-in-Chief
These iPad Kiosks are constructed from galvanised steel and classily finished with durable powder and are designed and constructed in the UK.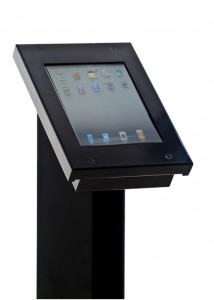 We are told that the iPad kiosk offers many advantages over traditional kiosk and display systems; they cost considerably less, and have a multitude of uses, and when not being used for display can be easily stored away and the iPad removed.
The kiosk itself is very sturdy coming in wall mounted or floor mounted , the floor mounted weighing in at 15 kilos – so portable but sturdy, the iPad is completely secure in the kiosk case and can be loaded in less than 2 minutes, secured with 4 bolts and then locked in place.
Once in, the iPad can even be rotated to either landscape or portrait.
The supplier, iPad Kiosks Direct UK will even design you an app and data gathering programme.
It's available for the original iPad and the iPad2 and can be ordered bespoke.