The Staffordshire Hoard, the largest collection of Anglo-Saxon gold and silver metalwork ever found, is on tour around England thanks to the efforts of Birmingham City Council and Stoke-on-Trent City Council.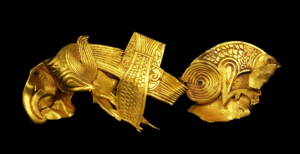 The collection, consisting of nearly 4,000 items that are nearly all martial or warlike in character, is not only shown in vitrines but also in 46" digital signage screens from AllSee Technologies. The screens complement the exhibition displaying striking close-up images of Star items featured in the hoard as well as video footage provided by National Geographic.
The treasure was originally found in Hammerwich Parish, near Lichfield in Staffordshire by a metal detector enthusiast. The hoard totals 5.094 kilos of gold, 1.442 kilos of silver and 3,500 cloisonné garnets. Historically there is nothing remotely comparable in terms of content and quantity in the UK or mainland Europe. The artifacts have been painstakingly dated to the 7th or 8th centuries, placing the origin of the items in the time of the Kingdom of Mercia.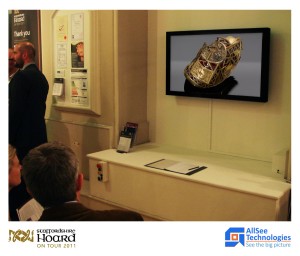 Since the find a research and conservation programme, headed up by leading and notable experts in the field, has been launched and will be ongoing for a number years to come.
Visiting the exhibition is free and all donations will help to conserve and research the hoard or future generations. A range of exclusive paid tours is also on sale at each venue. The tour, which starts 2nd July and ends 18th September, takes visitors on a voyage of Anglo-Saxon discovery " from unearthing the story of the hoard from the archaeologist's eye in Stafford, through to exploring the hoard's links to early Christendom, the Lichfield Angel and the priceless St Chad Gospels, at Lichfield Cathedral. In Tamworth visitors will find out more about the ancient seat of Mercia, the kingdom's bloody battles, and a colourful cast of characters.