Heathrow Express trains have been equipped with Digital Onboard Panels (DOPs) for a number of years displaying information and news. Since last year, the screens changed content provider to Sky and JCDecaux Airport was invited to become involved as the advertising sales partner.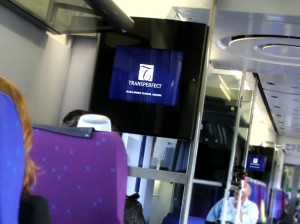 Finally this year, the first Spot advertising on 'Hex TV' has been sold to TransPerfect, the global language-services company which has commissioned a 30-second ad that will run in between Sky News' content on TV screens on the trains. Sky News content includes breaking news, news reports, weather, stock market reports and selected Sky channel content.
Steve Cox, marketing director, JCDecaux Airport explained: "We've been looking for an appropriate longterm advertiser – a brand or service seeking to engage an exclusive business audience with a business-related service. Heathrow Express delivers 5.3 million passengers per year* and with a 96% ABC1 profile*- the most business-focused audience in outdoor."
"TransPerfect offers a broad spectrum of business services, from translation to interpretation to legal support," said TransPerfect co-CEO Liz Elting. "HEX TV is a perfect forum in which to reach diverse business travelers who might have the need for many of our services."
Spot advertising on the Heathrow Express trains delivers the opportunity for brands to run full-motion ads complete with sound, reaching a captive audience during their 15 minute journey between Paddington and Heathrow terminals. TransPerfect's advertising will run before Sky News content on the outbound journey and after Sky News on the return. The screens are fully equipped with sound
Booked direct with JCDecaux Airport, TransPerfect's branding campaign will run until October 2011, highlighting the diversity of services offered by TransPerfect, from translation and transcription to multicultural marketing and litigation support.
This is TransPerfect's first Outdoor advertising in the UK and follows a digital Outdoor campaign in New York.
*Heathrow Express figures 2010