Adrian J Cotterill, Editor-in-Chief
The AV Communications Supplement put together by the folks over at Lyonsdown will be distributed in the Daily Torygraph this week (Thursday 24th November 2011).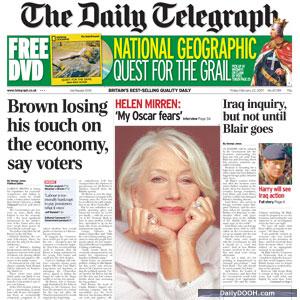 Expect to see Scala and NEC with various editorial (sorry, we mean adverts) in the supplement.
Lyonsdown and MediaPlanet are two of the better known businesses who put these paid-for supplements together – regular readers will know that we worked with the latter (unsuccessfully as it happened) on a proposed Digital Placed Based Media Supplement which should have been distributed with the Independent newspaper ahead of #ScreenMediaExpo.
Although we personally spent a great deal of time writing the foreword, planning the editorial, gathering and briefing the writers etc that supplement did not happen because it was impossible to get on board enough advertisers (in fact I don't think that MediaPlanet secured one advertiser or sponsor for the proposed Digital Placed Based Media Supplement) – there are always plenty of people who will raise their hand to speak to a journalist (or the editor) for editorial but few who will put that same hand in their pocket to advertise.
Theses sorts of supplements of course only work if you can get enough sponsors and advertisers on board. We know for sure that Scala and NEC have signed up and other claimed participants† are said to be Intel, 3M Touchscreen and Panasonic.
The media kit, "Audio-visual communications have come of age but few CEOs and company directors fully understand the potential of AV to transform their business" details over five glossy pages the reasons that sponsors / advertisers might want to be involved BUT unfortunately Lyonsdown make the usual mistake (of supplement publishers) of making the scope of the supplement far too wide in the hope of reaching as many potential sponsors and advertisers as possible. From their brochure…
Fixed installations – the latest trends in boardrooms, auditoriums, classrooms, videoconferencing and control centres.
Staged events – corporate meetings and events, conferences, tradeshows and concerts.
Applications – presentations, web-, audio-, video- and data- conferencing, education, advertising, retail signage and dynamic displays, command and control systems, concerts and public information systems. 3D in the business world – using AV technology to best advantage in the medium- to long-term whether for marketing, advertising or other purposes.
Digital signage – harnessing the power of digital signage, a valuable tool for exchanging content more easily and adapting messages to the context and audience, even interactively. We compare ROI with that of traditional signs.
Augmented reality – promises to aid the way we visualise the world, we look at possible and current applications of the technology.
Fibre optics – fibre-optic networks are showing up in AV installations at an increasing rate, driven by the need to transport a large amount of audio, video and data over a long distance.
Cloud AV – cloud computing is a term that the AV industry is hearing more often these days, especially as cloud-based services are making appearances in both commercial installations.
Green AV – AV manufacturers are turning to various listings and certifications to differentiate their brand and to showcase their environmentally-friendly products. Smarter working – modern, agile companies are adopting AV technologies like videoconferencing, document cameras, and digital video systems to serve their diverse and dynamic needs.
Smarter working – modern, agile companies are adopting AV technologies like videoconferencing, document cameras, and digital video systems to serve their diverse and dynamic needs.
As you can see from the list above that's something of a buzzword-fest.
These sort of supplements can work (they can get huge readership what with being published with a mainstream newspaper title) but they need to be focussed and relevant, they need to have a very clear division between sponsorship and editorial, and more importantly need to be well edited.
Our first sight of the media kit didn't fill us with a great deal of hope for this one but we will obviously take a look at the finished supplement in a few weeks time.
†'participants' of course is a clever way of saying in the introductory email that they 'may' be sponsoring or advertising or merely we have rung them up and spoke to them about editorial. It will be interesting to see who finally advertises and who of course gets editorial coverage