Adrian J Cotterill, Editor-in-Chief
Each year the UK's MediaGuardian (a great Monday morning read by the way) publishes a list of the 100 most powerful people in television, radio, newspapers, magazines, digital media, media business, advertising, marketing and PR (phew).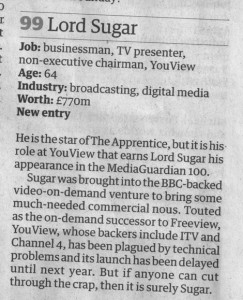 Last year our good friend Herb Kim made it in at number 83 and this year we noticed that Lord Sugar made it (just), in at number 99.
Having read through the complete list we were actually surprised that this is the first year that he has featured (read the list yourself, there are plenty of good people in the list but we think that based on M'lud's twitter and television alone he would have been higher up the list and in the list beforehand).
Our main point however is not that he was missing in previous years but why he is included this year (included correctly but for ALL the wrong reasons).
He's listed for his role at YouView Ltd, the joint venture between the BBC, ITV, BT, Channel 4, TalkTalk, Arqiva and Channel 5 – he became their new chairman only back in March 2011 BUT (deep pause) we never thought we'd say this but it his role with Amscreen that should see him rewarded with a much higher ranking than 99.
The judges, probably not knowing one iota about digital out of home, fail to see that Amscreen is changing the way brands are thinking about digital outdoor – for one, digital outdoor is no longer purely a London only medium. Thanks to Amscreen's forecourt and convenience store network (we are still not sure about their electronic health media network) prospectuve advertisers can TRULY reach consumers at the point of purchase in all parts of the United Kingdom.
In fact there are probably no better proponents of using the last-minute, just-in-time, day parting, time sensitive nature of the medium than the boys in Essex.
Pioneers of the industry full stop.