Gail Chiasson, North American Editor
Zoom Media's Agency Network has continued its annual support of the National Advertising Benevolent Society of Canada with a cheque for CA$55,000.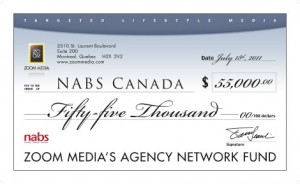 Each year, all net proceeds from the company's ZOOM Agency Network are donated directly to NABS. Since the Agency Network was first founded, it has grown to 67 media and creative agencies in five markets across Canada. Over the last 13 years Zoom Media has named the NABS its top charity of choice and has donated just shy of $600,000 to date.
Francois de Gaspé Beaubien, Zoom Media's chairman and CCO, says, "For all of us who enjoy working in this great industry, we are grateful that there is an organization, a dedicated and caring team that is there to support us should events go awry."
NABS.org is the only charitable group in Canada set up exclusively to provide assistance to people in the marketing and communications industries who may need help due to illness, injury, unemployment or financial difficulties. NABS services include a national toll-free counseling Helpline and financial assistance, as well as personal and career counseling. NABS is 100% industry supported, and has chapters in B.C., Alberta, Ontario and Quebec, providing services in all provinces.