Adrian J Cotterill, Editor-in-Chief
News just in that CBS Outdoor UK is to run a 12 week campaign to launch a new Google Maps service called Google Transit which allows Londoners to access local public transport directions.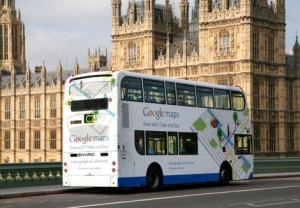 The campaign features five fully wrapped buses running along several well known routes in central London, such as the No.19 through Clapham, the West End and Highbury & Islington and the No.8 travelling through Holborn, Liverpool Street and Bishopsgate.
Jason Cotterrell, Country Director for CBS Outdoor UK told us "London's agenda setting, technology savvy audience is a perfect match for this campaign from Google. The campaign also benefits from the scale, movement and overall impact of buses ensuring their presence is felt on all of London's high streets. It's this combination of audience and unmissable impact that has established bus ads as the best way to be seen in London and in all of the UK's urban areas"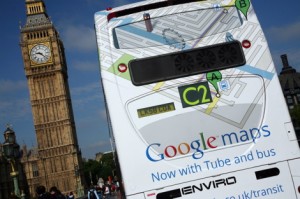 Google Transit is a new service on Google Maps that features public transport directions for London, allowing Londoners to plan trips using Tube, bus, and DLR routes around the Greater London area from their home, office or mobile device.
The routing information in Google Maps with public transport directions is provided by Transport for London (TfL). TfL is among the first agencies in a major European city to make its timetable information publicly available.
In addition, the service also provides the Public Transport layer – an overlay on the map showing all Tube, DLR, Tramlink and overground routes, allowing you to see London's public transport network on an accurate scale.
The campaign will run for 12 weeks from the 28th July.