Adrian J Cotterill, Editor-in-Chief
Rick Robinson from MacDonald Media got us started on this story when he told us "Embracing the spirit of independent operators that built the billboard industry, Bulletin Displays has taken it to the next level with their Digital Freeway Network … by publishing day-part rates that recognize the specific habits of the commuter audience this network delivers, Bulletin Displays has pushed forward the opportunities for us to harmonize our OOH buys with the overall media mix."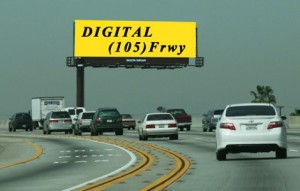 And so, a lengthy investigation began as to just who these 'Bulletin Displays' folks were, what exactly the 'Digital Freeway Network' was and to see if there was any credibility in their claim to have the Largest Freeway Digital Network in the Los Angeles Market!†
Over the last five years, Bulletin Displays, LLC of Long Beach, California has installed more permitted freeway billboards in the Los Angeles Market than all the other billboard companies combined.
Bulletin Displays is the result of the father and son collaboration of Bob and Mark Kudler. Bob and Mark are the second and third generation to work in the sign industry. Mark's grandfather was Moe Kudler.
Moe founded Advanced Neon and Plastics after WWII and was a past President of the national on-premise sign industry association called the National Electric Sign Association (NESA). Advanced Neon also built over 40 poster panel displays per month for Pacific Outdoor Advertising (CBS Outdoor's original name).
Advanced Neon also built all the on premise signs for such companies as Pep Boys, K Mart and Van de Kamp. Bob Kudler worked 10 years for Advanced Neon and then went out and started Kudco Diversified and General Neon and Plastics in 1961. Bob Kudler fabricated for both the off-premise and on-premise industry.
At 80 years old, Bob Kudler still comes into the office a couple hours a day at Bulletin Displays. Moe's youngest grandson, Mark A. Kudler is the President of Bulletin Displays and the Vice President of the California off-premise sign association called the California State Outdoor Advertising Association (CSOAA).
This August, Bulletin Displays will launch four 14' x 48' digital displays on four different freeways and thereafter have the largest "Freeway Digital Network" (FDN) in the Los Angeles Market
Bulletin Displays is not 'going digital' on just any of their billboards but instead targets installations (like most OOH vendors do of course) on their most prestigious 'Head-On' freeway locations.
Not surprisingly in the LA area we hear that the movie industry has been negotiating digital prices in anticipation of the August launch.
In addition to the 8 Second Spot network rates, they will, we are told, respond to the advertising agencies repeated requests and offer day parting rates (similar to radio of course; dividing the day into 4-5 different periods with the commuting time being the more expensive) and daily rates.
For the propeller heads, the digital displays are 16mm from Epic Digital Displays. Bulletin Displays run their own proprietary software.
†If you guessed Clear Channel Outdoor (most people probably would), CBS or Lamar (our guess) you'd all be wrong. It might only be four digital billboards at the moment but its claim as LA's largest holds water