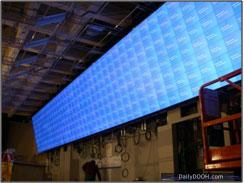 [1]rp Visual Solutions [2] let it slip on twitter the installation of 1,190 MicroTiles at the New York Police Department.
It's not certain whether the 1,190 MicroTiles are installed in one solid block (of whatever shape) though that's not likely we think.
This is almost definitely a massive control room installation.
The picture above was attached / referenced in the tweet. The AV Consultant is Shen Milsom & Wilke [3] whilst the integrator is listed as AVI-SPL [4]