Adrian J Cotterill, Editor-in-Chief
Yellow-clad fans in their thousands thronged Melbourne's city centre on Friday to hail Cadel Evans as Australia's first Tour de France champion as he took a ceremonial ride into town after returning from Europe but before that at Melbourne Airport he was welcomed with EYE's brand new digital signage.
Mike Tyquin – CEO, Australia and New Zealand told us "We were so proud to be able to present Cadel's winning picture to Melbourne and celebrate such a monumental win. The beauty of digital media is its immediacy and real time messaging and we were really excited to showcase this in such a celebratory way for Cadel."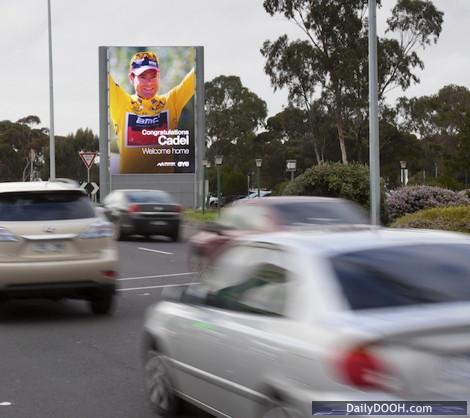 'Congratulations Cadel' messages adorned the external portrait digital LED site on Melbourne Drive, as well as all of the digital signage in baggage and arrivals in the International Terminal.