Adrian J Cotterill, Editor-in-Chief
enVu today announced highly positive research results from a study conducted by Arbitron, Inc. (NYSE:ARB) on the enSpire platform, an interactive mall advertising medium.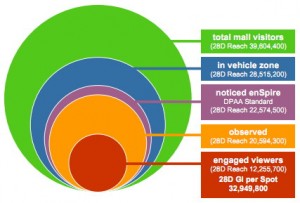 The study 'enSpire Mall Network: Arbitron Placed-Based Network Profile Audience Estimates and Ad Effectiveness" contains essential information for advertisers and agencies when evaluating enSpire as a media vehicle.
Enhancing the DOOH environment, enSpire, which is located in 135 malls in the top 20 DMAs is programmed to project digitally dynamic, interactive content through the combination of gesture-based technology and floor projection capabilities.
The study measures the network viewership of enVu, revealing that 72% of mall visitors were present in the area of the mall containing the enSpire platform ('vehicle zone'). These compelling statistics demonstrate how enSpire is strategically located within heavily trafficked areas of the mall.
The Digital Place-Based Advertising Association (DPAA) defines the audience within the 'noticed' category as anyone who is present in the vehicle zone and noticed enSpire. Using this standard, enSpire reaches 57% of mall visitors.
Among the study's findings of total mall visitors it revealed that 52% 'observed' the platform. Those observers either looked at the unit, stopped, or walked on the platform and interacted with the ads. More importantly, 31% of 'engaged viewers' watched the content and interacted with the ads.
During a 28-day period, the platform had 32,949,800 gross impressions (per spot). And, enSpire's viewers (65% female and 35% male) spent on-average one hour and 39 minutes in the mall, visiting 4.6 times every month.
Two case studies featuring national brands in the entertainment and pharmaceutical/over-the-counter (OTC) industry are also explored in the report. When asked to recall the promotion without an image (unaided), 36% of consumers could recall the ad. But, when provided an image of the brand, 52% of enSpire's engaged viewers recalled seeing the ad.
"We're excited to release this valuable research to mall advertisers. Not only are we delivering a certified currency to conduct business, but by focusing audience profiles on engaged viewers, for the first time advertisers and agencies can evaluate the platform based on consumers who displayed extensive engagement with advertisements," said Benjamin Mathieu, enVu CEO. "With an average dwell time of three minutes and 27 seconds, enSpire is more than just an ad platform that is noticed, but an interactive medium that engages viewers—and it works!"
Benjamin concluded, "I won't pretend that enSpire is made for every brand and every media plan, but with these results I can firmly state that enSpire is a reliable media investment and will deliver significant brand awareness and sales uplift for all of its diverse clients."
The study helps further explore the development of the next generation of advertising, proving that direct motion, QR Codes, and interactivity are the future of the advertising world.
"Typical brand recall rates range from five percent to nine percent, while visually aided recall rates range from 15 percent to 40 percent. However, the results from this report will forever change the dynamic of DOOH advertising," said Diane Williams, Senior Media Analyst, Arbitron. "The enVu platform has attained results that until now were unheard of, with 38 percent unaided and 45 percent aided—setting a new benchmark for DOOH mediums."
The report is available as a PDF here.