Adrian J Cotterill, Editor-in-Chief
Hats off to Harris Systems Limited's International Marketing Director Ciarán Doran who will be leading a group of ten cyclists to ride from the headquarters of the International Broadcasting Convention in central London to the IBC show in Amsterdam (approximately 300 miles).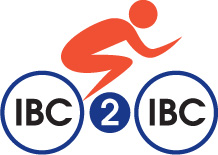 They depart at 3pm on Saturday afternoon 3rd September with the aim of reaching the RAI, Amsterdam by 3pm on Sunday 4th September with the finishing line at 'The Beach' (or 'Strand Zuid' as some may know it).
There are a few things that get in the way, such as the Dover-Calais ferry and some waterways in the Netherlands but all riders are, we are told, well trained ready to reach an average speed on the bike of 20 miles per hour (32km/h).
The ride is in aid of an incredibly good cause (and one personally close to my heart), namely Vision Charity which raises funds for the benefit of Blind and Visually Impaired children in the United Kingdom.
You can sponsor the team by clicking here.