Adrian J Cotterill, Editor-in-Chief
Harrods is set to offer its brands and clients the very latest in digital media advertising. The unveiling of a revamped state-of-the-art escalator complete with the latest generation of digital screens follows a multi-million pound redevelopment programme.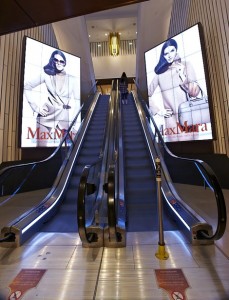 The redesign of Harrods escalator 10, located at the stores premium entrance on Hans Road, reveals a minimalist, cutting-edge design concept with the installation of five giant high-definition video walls, replacing the previous static poster sites and individual display screens.
Two 16 screen super-size video walls at the foot of the escalator, tower a staggering 13 feet tall, with a further three located at the Lower Ground, Third and Fifth Floors.
The screens are thin bezel NEC LCD screens configured as video-walls and powered by Harris Corporation's digital out-of-home solutions featuring "InfoCaster™" software. Harris has also upgraded Harrods existing storewide digital signage network with their InfoCaster system, which provides high-definition content and state-of-the-art scheduling capability.
Guy Cheston, Director of Harrods Media, told us "This new upgrade has transformed our digital signage offering by providing tremendous impact and visibility for the brands advertising on these digital media walls. We see this as the future, reducing clutter, enabling much greater scope for creativity with content. We have already seen keen interest from our brands, and an uptake in sales and footfall in-store as a result."
150 digital screens have been installed throughout the Knightsbridge store and its UK airport stores. This latest innovative development follows Harrods extensive investment programme into its digital media infrastructure, as Harrods cements its position as the leading retailer providing luxury media.