Adrian J Cotterill, Editor-in-Chief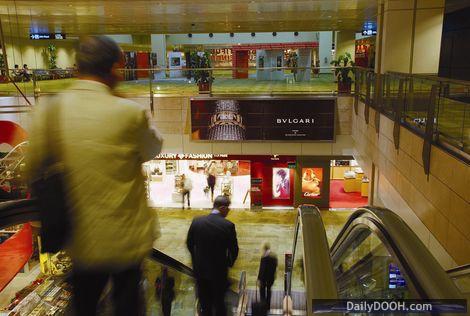 I see that Eye Corporation have continued their world wide digital (billboard) innovation – this time at Singapore's Changi Airport Terminal.
Showing above is Bulgari, one of the first three advertisers, on the digital screen display in the Terminal Two (T2) airline lounge area.
Eye Corporation (imo) clumsily call it a "Landscape Digital advertising display" – it comprises eighteen 42-inch plasma screens, with a measurement of 1.56m (h) x 5.56m (w).
Within an airport environment its is currently the largest digital display of its kind anywhere in the world though I understand that there are a couple of other digital airport operators looking at similar large tiled screens at the moment.
Bulgari, American Express and global energy consortium Linde Group are the first three advertisers for this site.
Another "Landscape Digital advertising display" (phew) will be going up outside the business lounge area of Terminal 3 (T3) on 9th January 2008. Great innovation and sales.