Adrian J Cotterill, Editor-in-Chief
Dave Haynes with his pressDOOH hat on and in that blog 'Buzz, Not Buzzwords' talks complete sense and demonstrates how so many folks in our industry get their PR wrong (and offers free advice on how to get it correct).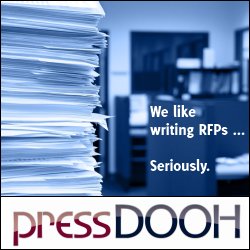 We often point people at pressDOOH knowing that anyone who uses the service will come away happy and have a much better handle on PR in general. Companies using pressDOOH also makes our own job so much easier as the way Dave crafts a press release makes doing a post from it on our site a 'doddle'.
One big gripe we have. and to be fair it's a problem that affects small companies, large corporations and even the startups and serial entrepreneurs who really should know better / try much harder is how the communication is delivered to us (and other news gathering organisations) in the first place…
I don't want a press release (solely) as a PDF
I don't want formatted HTML for the body of the text
I don't want to be pointed at a URL to go get the story either
I don't want to go to an FTP site to get pictures
I don't want to have to extract pictures from an embedded word document
I don't even want to go to DropBox to get pictures
However,
I do want the press release embedded as text in the email
I do want one decent sized picture that sums up the press release attached to the email
… and I'm also okay if more pictures are available in say DropBox (but not FTP, you should never point journalists at something as horrible as an FTP site) but as I say above it shouldn't be the only way to get a picture.
I'm Lazy when I'm loving
I'm Lazy when I play
I'm lazy with my girlfriend, a thousand times a day
I'm lazy when I'm speakin
I'm lazy when I walk
I'm lazy when I'm dancin
I'm lazy when I talk
And lest you think I'm lazy then consider the even more important (to you) journalists in the mainstream press and consumer technology sectors. If you are sending out a press release you need to make their life as easy as possible to help them write about you and our industry.
A lot of this is actually common sense but as my dear old Dad used to say "the thing about common sense is that it is not very common".
For best results 😉 read this post in conjunction with 'Six clues to better digital signage press' over on Sixteen:Nine