Gail Chiasson, North American Editor
We had a great conversation with Mohamed Rafeeq, CEO of Scala India, who told us about Scala software being chosen to drive the first ever Digital Signage Airport Advertising network in Terminal 3 at the Indira Gandhi International Airport – New Delhi, the largest and newest airport facility in India.
He also brought us up-to-date on a lot of other projects his company has been involved with in India.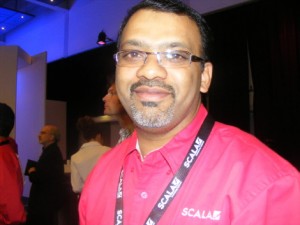 For the airport at New Delhi, a media agency with the advertising rights for both static and digital advertising, chose Scala to deliver the software solution for the network. It consists of 180 individual 65" screens in portrait mode, spread over various locations around the airport including travelators, departure gates and security hold areas of both international and domestic piers; and a 48 screen giant video wall about 10m x 2m in total dimension at the domestic departures section. Not only does the signage overwhelm the travelers and visitors of the airport, it also offers advertisers a unique opportunity to target an enormous audience.
"This is the second airport network that we have implemented and manage content on an ongoing basis," said Rafeeq.
"Terminal 3 with the introduction of the advertising network has further opened new and immensely profitable avenues for network operators. T3 is already proving to be a model that is fast changing the OOH landscape and we expect to be actively involved in many more such networks."
The new network is the second platform in Terminal 3 of Indira Gandhi International Airport Delhi that is driven by Scala. Since July, 2010, a 245 player network has already been running in the same location. All content on that network is also driven and managed by Scala. That network provides live TV channels, general airport announcements and live weather updates on screens at boarding gates, check in counters, information counters, customer lounges at gates and restaurants.
In addition, the network also acts as the redundancy source for flight information when the primary FIDs system is down. Since Scala drives both networks, Scala India will be managing Terminal 3 at Indira Gandhi International Airport completely, on the content aspect of the networks.
Rafeeq, who came from the banking industry, said that what was amazing at the New Delhi airport is that the new contract's 250 screens were put up in 90 days.
"We were awarded it because Scala was seen as robust and reliable to handle a project that had to keep going 24/7, could handle high quality content, was able to be integrated with external feed, and would provide full-time support," said Rafeeq.
Scala India is also behind the 100 hotel room TV screens near the airport. And Scala worked earlier in association with Digi4 (with which Rafeeq was earlier associated and was purchased by Scala) to handle the complete internal installation of Hyderabab International Airport with both TV-type screens for general information and gate arrivals as well as live feeds that allow views of the planes' arrivals. (We're told that Scala India now also has a pilot program in the works at another airport.)
Away from the airport sector, Scala India has also worked on a full turnkey operation for 200 Yum! (KFC and Taco Bell) stores, both new and refurbished, as well as for several other clients.
"It's important for Air India to be seen as a full solution provider with content and support," said Rafeeq. "Home-grown competitors don't have half of what Scala India offers."