The crème de la crème of the fashion world have been in New York City for Fashion Week and Christie MicroTiles were front and center at iconic photographer and filmmaker Bruce Weber's launch party on September 8 for Fashion Night Out, celebrating his new website and movie.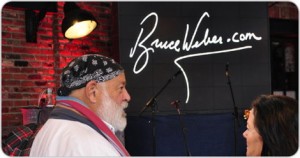 Weber, known for his imaginative advertising campaign work with Calvin Klein, Ralph Lauren, Versace and Abercrombie & Fitch, among others, wanted his evocative film to reveal his message with clarity – and Weber chose MicroTiles, with Christie Managed Services assisting with the installation.
Surrounded by steel girders, rivets and lighting fixtures – generating an industrial backdrop – the five tall by five wide MicroTiles array (5 feet 4 inches high by 6 feet 4 inches wide) blended stylishly into the architecture, maximizing the impact of the content and providing the color matching, ultra-high resolution, and brightness required.
"I didn't want the film to look pixilated in any way and the MicroTiles displayed the content exactly how I wanted it to look," said Weber. "They fit elegantly into the architecture and were clearly superior to the other choices. MicroTiles provided exactly what we need."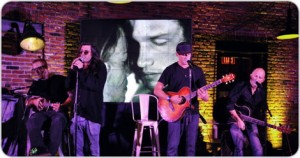 During the gala, MicroTiles also served as the backdrop for Josh Cocktail, Loggy, and Big Red, the band behind the music in Weber's film.
Jeff Grantz of Materials & Methods was the digital media consultant for the project and noted that Weber was adamant about maintaining a film-like quality to the presentation. "We considered other technologies but with the industrial brick and beam look, and the nostalgic authenticity of the film, the glassy, glossy display of those options wouldn't have worked," said Grantz.
"We had exactly seven feet to work with and had to construct the array around big architectural lighting fixtures. Given the non-reflective surface of MicroTiles and their scalability, we were able to do it without any problems. The MicroTiles were true to what Weber was trying to say."
About Materials & Methods

Jeff Grantz from Materials & Methods in Boston, works with select designers, architects, and owners who aspire to develop purposeful and engaging applications for integrating digital media within a built environment.