The Digital Screenmedia Association is introducing the DSA Crown Awards, aimed at recognizing the impact of excellent content in out-of-home environments through the use of digital signage, self-service kiosks, and mobile technology. The deadline is quite soon, October 3rd , but there is an online form for the entry.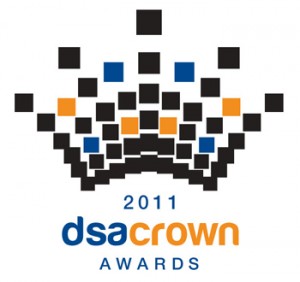 Applications may be submitted by companies in the private and public sectors as well as technology companies. However, the focus of the program is on how the content was successful for the client, so their input is vital and should be included in the applications.
The cost to enter is $195 per entry. There ca be more than one project entered per company and the same project can be entered in more than one category.
A video of sample content and a photo of the screen in the intended environment is required.
The categories include: Point of Wait (dwell time); Point of Sale (shoppers); and Point of Transit (people on the go).
Within each of the three categories above, entrants will select one of the following two sub-categories: content run on a digital signage / kiosk network (one-way or interactive) or  content campaign run across multiple screens (digital signage/kiosk plus mobile, online and/or TV).