Yorkshire based digital system designers, 53 Degrees Ltd, have recently installed an eco friendly video wall using Samsung UE46A LCD LED. The backlit display can be seen at the Timberland Flagship store within the newly opened Westfield Stratford City shopping centre in East London.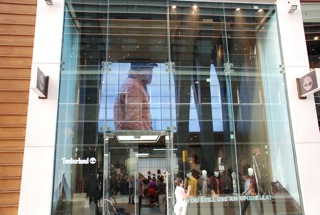 [1]These screens were chosen also to reflect the company's long-standing commitment to sustainability. The screens are environmentally efficient – they are thinner and lighter – 29mm thick and 12 kg per panel and utilize a maximum of 100watts power per screen that, when compared to standard video walls, means they use up to 50% less energy.
The giant video wall using the new Samsung screens, measures 6.2m x 3.5m (36 x 46" screens) and  takes centre stage on a recessed bulkhead at the front of the store and provides a stunning 11,520 pixel by 6,480 pixel digital canvas.
Rod Pallister the MD of 53 Degrees says "We are obviously very proud to be the first UK design and installation company to have installed the new Samsung panels. But our real excitement centers round the opportunities this new product offers to our clients. This new product represents a major step forward for video wall technology, the picture quality is second to none, the thin light screens provide ease of installation and the green credentials make this a stand out display product for anyone thinking of using digital display technology."