Gail Chiasson, North American Editor
Clear Channel Airports, marketer of airport advertising, has announced the launch of its popular mobile app – FLYsmart – at Huntsville International Airport.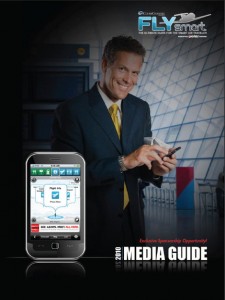 The free location-based app available for iPhone, iPod touch, iPad, Android and Blackberry devices, allows air travelers to browse live feeds of arrival and departure information and quickly locate services and amenities both inside the airport terminal and in the surrounding city.
With FLYsmart, "Our airport passengers and visitors can have their own personal directory that provides all the information they need right in the palm of their hand," says Barbie Peek, director of marketing, Huntsville International Airport.
Launched in 2010 as part of the Geodelic network, FLYsmart is now available in 33 airports and accessible by more than one million users. The app works by mapping and displaying all the immediate information air travelers need in the airport, from newsstands, gift shops and restaurants to terminal information, restrooms, as well as hotels, services and information outside the airport. In addition to providing valuable information to travelers, the app offers unique marketing opportunities for local and national advertisers to improve the passenger experience and provide a positive brand association to millions of airport passengers.
"FLYsmart is an effective vehicle for marketers to deliver their messages to current and prospective customers," says Toby Sturek, president, Clear Channel Airports. "Hotels, restaurants, local attractions and transportation companies are just a few of the key industries that are already using FLYsmart to reach affluent business and leisure travelers,"