UK outdoor media owner Outdoor Plus [1], has been awarded the contract by Transport for London (TfL) to develop two prestigious large-scale digital screens on London's Euston Underpass.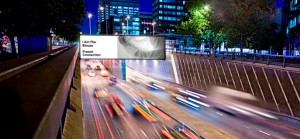 [2]The two 12.2m by 3.4m LED digital screens will go live this October, completing a hat trick of high-profile digital sites for Outdoor Plus alongside The Eye in London's Holborn district and the CPW site on Western Avenue -with further expansion scheduled before the end of the year.
The panels will target east and west-bound drivers on one of Europe's most heavily trafficked roads – the Euston Underpass – delivering real-time messaging to over 100,000 people every day.  Both panels will be positioned above the entrance to the underpass, facing drivers, providing advertisers and their brands with exceptional reach and unmissable impact.
The screens will utilise the very latest digital technology to ensure ultra-sharp imaging, remote environmental control and built in failsafe systems. They will incorporate the latest campaign management technology to provide advertisers and agencies with the scheduling flexibility to reach the right audience at the right time, as well as daily reporting on campaign delivery.  The screens will also allow advertisers to incorporate interactivity and social media into their screen creative.
Grant Branfoot, Outdoor Plus' Sales Director says: "The Euston Underpass panels are an exciting addition to our growing digital portfolio, which now includes three of the most prestigious sites in Central London – Holborn, the Euston Underpass and Western Avenue.  By partnering exclusive locations with the most progressive technology in the marketplace we will not only be able to connect client brands with high volumes of prospective customers in a highly impactful way, but also tie intargeted outdoor messaging within multichannel campaigns."
Euston Circus is being designed and developed by Wildstone Property Ltd.