Adrian J Cotterill, Editor-in-Chief
The regional and national UK newspapers and most of the niche marketing rags have been full of department store Debenhams store revamp (and new kiosks) but none yet has picked up on their digital signage.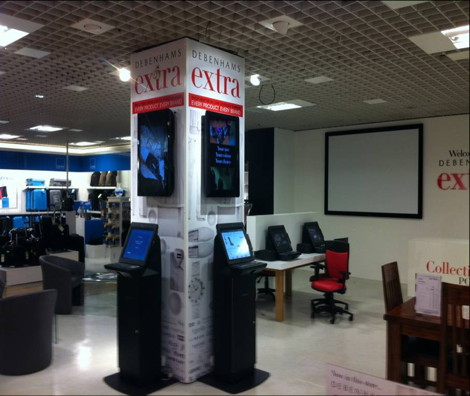 'Makeover for Coventry's Debenhams store' (says one), 'Debenhams adds Extra in-store services' leads Marketing Week and even the UK's Daily Mirror reported "Boss Rob Templeman said "The biggest complaint we have is 'I like that dress, but it's not in my size'." The first kiosk will be in its Coventry store by the end of the month. All UK branches will have them by October."
What they haven't spotted however is all the digital signage being piloted at their store in Coventry.
What we have seen is screens throughout the location providing marketing and promotional messages AND directing consumers to the Debenhams Extra kiosks in the store. The kiosks themselves offer access to the entire inventory of products available on Debenhams.com.
It's surely a great example of a retailer building towards a more integrated multi-channel digital merchandising strategy (and we wonder how much NCR has had to do with this behind the scenes).
A member of Debenhams IT staff told us that "Debenhams is still learning what works and what doesn't work for their audience with content and location".
It will be interesting to see how this unfolds. Watch this space.