Adrian J Cotterill, Editor-in-Chief
News reaches us that Ian Dobson and Adcentricity have parted ways. Ian was Vice-President Sales, North America at ADCENTRICITY and previous to that Vice-President Sales – Digital Media at Cineplex Entertainment, Senior Vice – President – Sales at Onsite Media Networks and Vice – President Sales at Neo Advertising.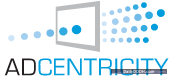 This is, we believe, the second sales executive to leave Adcentricity in the last three months. Noel Geer, former Vice President – Central and Western Canada at ADCENTRICITY left the company in July to quietly form NGAGE Media (where he is President and Founder).
Adcentricity's Rob Gorrie, President and Founder told us "Yes, it is true. Adcentricity has recently made some changes to its sales team in an effort to strengthen the division to better support our clients and partners."
Adcentricity recently closed its Chicago office and US network sales we understand are now handled by only one sales executive based in New York.