Adrian J Cotterill, Editor-in-Chief
Our look at the month ahead is a bit later than usual, so many stories did we have for you Monday AND as we all, it seems, enter what is surely one of the busiest months of the year for our industry.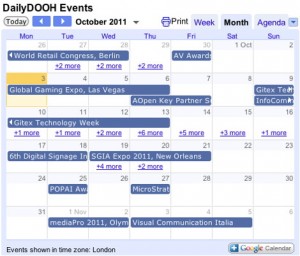 The 6th and 7th October sees the AOpen Key Partner Summit, a private, invite only event in Amsterdam and on Sunday 9th October Gitex Technology Week and the co-located InfoComm Middle East and Africa event kicks off until the 13th in Dubai.
On Wednesday 12th October The Festival of Media LatAm 2011 is being held in Miami which runs until the 14th.
Thursday 13th – 16th October sees the Digital Sign Asia Expo 2011 in Bangkok, Thailand and the 13th – 15th sees the SSSC / ISA Sign Show in Atlanta.
Also between the 13th – 15th is viscom düsseldorf 2011 and in London on the 13th and 14th is Wired 2011.
The 6th Digital Signage investor conference takes place Monday 16th and Tuesday 17th in New York City, immediately followed by the DPAA Media Summit on Wednesday 18th and DPAA's International Day on the 18th.
At the end of the month on Tuesday 25th October in London is the POPAI awards and later that same week also in London on the 27th October is MicroStrategy's London Symposium.