Ocean Outdoor and Screenreach Interactive are facilitating insurance provider swiftcover.com's debut interactive digital campaign with an interactive, motion controlled multiplayer driving game.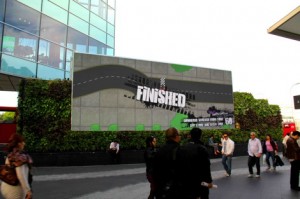 The campaign which will be revealed on Ocean Outdoor's Eat Street site at Westfield London tomorrow (Wednesday 12th October) has beeen booked through Spark.
The game allows drivers to compete against each other using Screenreach's Screach app which allows two way, real time interactions between a smart device and content on other platforms, in this instance, the large format screen. The game is motion controlled, triggering the user's on-screen car when a steering motion is made with the smart device.
Shoppers interact with the driving game by downloading the Screach application to their smart device and entering code '60' into the keypad. Their device then turns into a controller for the on screen content.
Participants can select from a number of car models and colours before making their way along the race route, competing against other users simultaneously. Called the 60 Second Challenge, the drive simulates America's famous Route 66, allowing users to collect swiftcover.com tokens along the way.
Amanda Edwards, swiftcover.com Senior Marketing Manager told us "Once again, Swiftcover breaks with traditional forms of insurance advertising. This campaign allows us to interact nicely with our target audience, albeit in a very different environment and using a game format which absolutely resonates with the sentiments of the Get a Life campaign."
Also by connecting to the app through Facebook, users can have their Facebook profile image featured on the large format Eat Street digital screen and post news of their activity to their Facebook profile.
Paul Rawlings, CEO of Screenreach Interactive told us "swiftcover.com is using Screach to deliver something truly innovative to its consumers. By converging these two media platforms and using our motion control and multiplayer functionality they are really going that extra mile to capture the imagination of consumers." (FYI Paul will be speaking next week in NYC as part of the 'The Stories Behind the Million-Dollar Funding Deals' Panel on day one of the #DSinvestor conference).
Profiling features will also enable swiftcover.com to learn more about its consumers and how they interact with the brand.