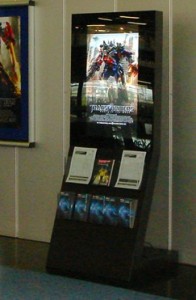 Millennium Point in Birmingham has given its Giant Screen Cinema a revamp by installing four digital signage displays from AllSee Technologies in the foyer areas.  Originally three display screens were supplied (one 40" Wall-mounted HD Digital Advertising Display, one 46" Freestanding Digital Poster and one 40" Freestanding Digital Poster with literature holder) displaying movie posters, trailers and information such as promotions and upcoming events, along with complimentary literature.
Caroline Durbin, PR Manager for Millennium Point said: "The displays work really well for us. Having the ability to update content immediately is great in terms of operations, and reduces printing costs. Also, the ability to show trailers really adds a dynamic element to the foyer areas."
There are plans now for the installation of a further 40" HD Digital Advertising Display.