Adrian J Cotterill, Editor-in-Chief
This post is not a new feature but one of our readers has some equipment for sale and wondered if any of our readers or subscribers might be interested.
Anyone involved in digital outdoor, interactive windows, daylight projection screens, boardroom installations or even trade show stands might see the value in what they've got (it's around GBP 20,000 worth of screen brand new)…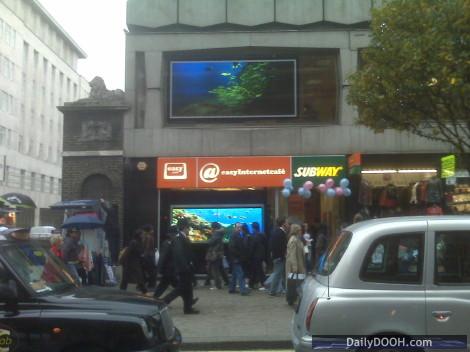 The screens have been used in Oxford Street, London back in 2010 (as shown above and many of you will recognise the installs) and they have since been used for daylight installations at Debenhams in Chester and Liverpool.
They do have some minor surface markings however we are told that these do not show when the screen is active and they are in general, in fantastic condition.
The screens are packed and boxed ready to go; they can be delivered for an additional amount or they could be couriered or picked up also at the buyer's cost from Llandudno, North Wales.
Speak directly to rich.paterson201@googlemail.com if interested.