"We were here first" comments Fiona Kyle, manager of brand alliance Westfield UK when we were asking her about the impact the Olympics will have in the newly open shopping centre. The Editor in Chief and I had an exclusive walk around the mall this month and we could see first hand how seamlessly digital signage works in a space that has been designed with this medium in mind.
Westfield Stratford bought the land over five years ago, when the Olympic dream was not yet in the cards. The shopping centre is one of the biggest in Europe with 1.9 million square feet. But its size might be dwarfed by the time of the Olympics. In fact last week it was reported that tens of thousand of cheap 'rover' tickets for the Olympic Park, have had to be scaled back because of fears of over-crowding Westfield Stratford City shopping centre. Seventy per cent of all Games ticket holders are expected to pass through the mall, which is already proving very popular just over a month after opening.
As we reported before, the shopping centre boosts digital signage inside and outside. CBS is the only media partner here, and takes care of the media sales on its screens. However the shopping centre's screens work independently displaying news, weather, travel information and anything Westfield feels will be of use to its visitors. Kyle is now looking to incorporate sponsored content on Westfield Stratford City's screens.
Powered by Scala, the screens can run campaigns that last from 6 weeks up to three years. All content is developed in house, at the Westfiled Stratford City offices which, according to Kyle, provides them with more control and flexibility.
"It is my aspiration that in the near future we can drive more digital media," says Kyle "a good digital site can provide brands with experiential campaigns and achieve tangible results.
"With digital you can be more tactical, this allowed us not to suffer that much with the recession," adds Kyle.
The most impressive and beautiful screens were the large Daktronics LED screens. Placed in the void between the ceiling and the mezzanine overlooking the ground floor, the screens rotate not to obscure the shops that fall on the sides of it. Westfield shopping malls were born in Australia where the Daktronic LED screens already proved their effectiveness.
But it is not just the shopping centre itself that knows that digital works, most top brands have digital screens and the whole spectacle is well worth a visit.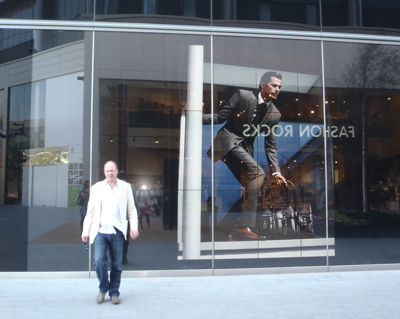 Hugo Boss digital shop window with seamless flat screens arranged vertically. And is that Hugo Boss' new model? Oh no! it's just the Editor in Chief!