Adrian J Cotterill, Editor-in-Chief
You could have mistaken last week's #DPAAmediasummit at the Marriott Marquis hotel in NYC for something other than the professionally put together digital media summit for digital place-based media (or digital placed-based out-of-home media, as one speaker put it!) that it was.
With huge orange 'goodie bags' from PlaceWise Media – filled, by the way, with some great stuff: Boost energy drink, hand gel, RMG Networks t-shirt, Ayuda baseball cap (also orange), leaflets, passes to Customer Engagement Technology World, etc., and with Ayuda Media System's stand (shown here to the right) totally dominating the small exhibitors' area in the breakout space, it would have been easy to mistake the event for a gathering of the Netherlands football (soccer) team, so much 'orange' was on actual display.
If only AOpen had turned up in their orange polo shirts, the effect would have been complete!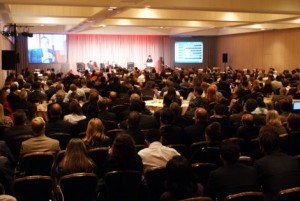 As content was not really discussed that much at the summit, we didn't quite get the 'Context Matters' strap line, but then perhaps after AAAA's Nancy Hill's speech had sent us to sleep in the first hour, we missed something. This was a presentation, by the way, that made little or no mention of DpB (oh! how we hate that abbreviation that seems to have cropped up recently) or DOOH (or DPOOH if you are following the thread above).
Nancy proceeded to give a 'cookie-cutter' presentation that no doubt she rolls out whenever she is asked to come down from her ivory tower and present at any event. Very disappointing, to say the least! (Note to Nancy: you have too many 'handlers'.)
The panel that immediately followed Hill, the 'Agency of Tomorrow' moderated by David Verklin was though, actually rather good (and we learned a few lessons in moderating a panel, so hats off to David).
Also worth a mention was Paul Price, CEO, Creative Realities Inc., who had a difficult lunch time speaking slot but we thought did a great job with his presentation 'It's the Content Stupid!'
We were rather disappointed with the last session of the day. We thought it would be a really hot Q&A event with Joe Mandese, editor-in-chief of MediaPost interviewing Nigel Morris, CEO of Ageis Media. Instead, Morris droned on until he lost us and Mandese only came on at the end with three or four questions that tried to wake us up.
Overall, though, it was a good event and the DPAA should be given credit for getting well over 400 relevant folks into a room for a day in NYC.
The atmosphere was upbeat, the networking great (Isn't usually always the 'networking' that is the best takeaway from these sorts of events!) and a lot of fun.
It wasn't just the goodie bags that some people walked away with though, as Gianine Tartaglia from Kinetic was the lucky winner of an Apple iPhone 4s (gifted by Captivate networks), and Dave Koppelman (MacDonald Media), Joe Esposito (DMG) and Elina Yankovich (Posterscope) won new iPads, courtesy of The Wall Street Journal Office Network.
The network Akoo also gave away Beats by Dre headphones.
Additional reporting by Gail Chiasson