Gail Chiasson, North American Editor
A quality certification for networks will launch in Europe in 2012, Dirk Hülsermann, in his role as founder and president of OVAB Europe, told attendants at the Strategy Institute's Digital Signage Investors Conference in New York last week.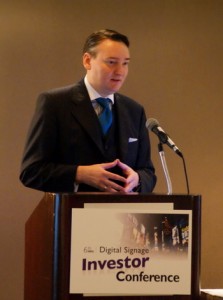 Hülsermann's discussion on the differences between the U.S. and European markets was interesting for everyone but especially intriguing for those in attendance aiming to expand into Europe.
Hülsermann, who is also the manager DOOH Solutions – VUKUNET/ADVUKU, NEC Display Solutions EMEA, initially spoke of the population differences as well as the current economic situation, especially Greece and Italy with budget deficits which can affect the rest of the European countries supporting them.
"We are of one business but with 27 countries, 23 languages and 11 different currencies," said Hülsermann. "And we're further confusing the world around us, talking about Digital Out-of-Home/Digital Signage/OOH TV/InstoreTV/Digital Place-based Media. As an industry, we need one category."
Having one category would help digital out-of-home media to grab advertising budgets from four major categories, such as TV, cinema, Internet and traditional outdoor, he said. The money currently comes mainly from traditional outdoor media buying budgets. And while digital place-based networks and digital billboards pulled more dollars in Europe than in the U.S. in 2005, (U.S. $958 million compared to Europe $1.18 billion), the U.S. had surpassed Europe by 2010 and by 2015, the U.S. is forecast at $4.77 billion vs Europe's $3.51 billion.
"The U.S. market now seems more dynamic," said Hülsermann. "In Europe, the industry varies enormously country to country. Europe cares a lot about investment and is more conservative, but once it moves, it moves really fast."
In Europe, Germany and England are the two most dynamic markets. The big five German DOOH media owners reach 250 million customers weekly with 70,000 displays. Growth in DOOH advertising sales reached 38% in 2010 to €67m and will grow by 30% in 2011.
"Further, blue chip companies such as Deutsche Telekom and Ströer have entered the DOOH space as media owners," said Hülsermann. "And all of the big five are new to the market in the past two years."
Further, Hülsermann said that they don't need investors. They are well-financed, and do it on their own. They've made a huge commitment and the big five hold 80% of the market. Besides Ströer Infoscreen (in train stations) and Telekom Out-of-Home (airports, malls, food retailers and lotteries), the other three big players are ECE flatmedia (shopping malls), Tank & Rest Instore-TV (motorway service area operators), and Media Saturn (consumer electronics stores).
DOOH grew in the UK by 37% in 2010 to GBP 100 million.
"Q1 2011 saw a growth of 31%, and, anticipating that revenues will reach GBP 116million, DOOH is expected to grow by 16% in 2011," Hülsermann said.
"Over 11% of the traditional OOH spending is now digital."
Another difference that he pointed out is that, whereas the DOOH market is spread largely among six major centres in Germany, it is concentrated mainly in the London area in the UK. with Amscreen being the only truly national network. (Amscreen is now expanding into Germany, as well.)
JCDecaux and Clear Channel, traditional outdoor companies, now operate more than 35 LED billboards in London. Ocean Outdoor is also in LED boards, with eight in London and one in Manchester, while Outdoor Plus has three in London. (Hülsermann didn't discuss the digital place-based sector, such as Zoom ClubCom, in the UK).
Hülsermann said that consolidation has hit the European market, with close to 50% of companies having gone under.
"The one challenge that the U.S. and Europe have in common is that the DOOH sector is still difficult to plan and buy," said Hülsermann. "Both markets need to sort out the challenges that involve audience metrics, campaign compliance, proof-of-performance and also to simplify the process and reduce manual labour.
"Make it easy and simple to plan and buy DOOH media and gain trust and credibility at the agencies."
He said that OVAB Europe's Standards Committee has been working with the four biggest German media owners over the past six months to develop a common European media currency; European audience metric guidelines; proof-of-play and reporting methods; and service levels and standard campaign processes.
Further, in co-operation with FAW (traditional OOH trade body), the afore-mentioned quality certificate for DOOH networks will be launched in 2012, good for one year, that is expected to help build trust and credibility for the industry. It is being based on a number of strict criteria including having a minimum number of screens; audience metrics audited by a market research company; media currency of CPMs based on audience metrics; standardized proof-of-play and reporting; and audited processes.