In-taxi media is growing worldwide, and Canada is no exception: Play Taxi Media [1], a three-year-old firm out of Vancouver, is moving onto the national scene into Calgary and Toronto.
[2]With an official launch planned in Toronto on Nov. 3/11, Play Taxi Media is already in 250 taxis in Toronto (where it started installing in September) giving it 500 taxis nationally, with expectations to be deployed in 1,400 cabs within the next couple of months.
Play Taxi Media's screens are built into the headrests. In addition to carrying RSS feeds of weather and news, advertising runs on a five minute loop. However, most advertising isn't straight advertising, but rather full motion video with interactivity.
"Our screens are totally interactive, and we encourage advertisers to make their ads fun and entertaining, with quizzes, contests, and other interactivity," says Zac Killam, president and CEO. There is also an app where people are invited to take a survey, perhaps giving their opinion on something in the news or about an activity in the city.
Among ads running during the Toronto launch are Flight Centre [3], TELUS [4], and Clearly Contacts [5].
In addition, Play Taxi supports M.A.D.D. (Mothers Against Drunk Driving), given the natural fit between the two organizations, and will regularly feature anti-impaired driving messages on the network.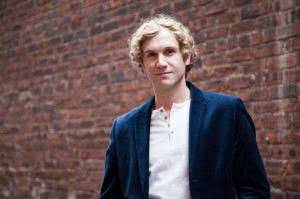 [6]Killam, a lawyer and founder of Play Taxi Media, owns the company along with several private unnamed 'angel' investors. Before launching Play (originally known as Moving Media Group), he practiced corporate and commercial law at Edwards, Kenny & Bray [7] with a focus on corporate governance and finance. Prior to law he was in financial and property management, sales and entrepreneurial ventures. We asked him how he got into the digital out-of-home sector.

"I saw how in-taxi media was growing worldwide, and how this could be an interesting opportunity," he says.
Play Taxi has partnered with Touchmedia [8], whose software is behind thousands of in-taxi screens worldwide, particularly in Asia. Play Taxi handles content management content from top-tier publishers, CBC and the Weather Network feeds as well as original and branded content from its Vancouver office.