Gail Chiasson, North American Editor
John Underkoffler, chief scientist and technological visionary at Oblong Industries, will deliver the Wednesday, March 7 keynote address at the 2012 Digital Signage Expo in Las Vegas.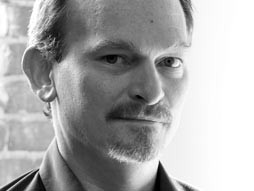 Underkoffler, well known for his groundbreaking optical and electronic holography work at MIT Media Laboratory and his role as science advisor on films such as the Minority Report, will present 'Through and Beyond: A Pixel Dialogue'. His address will describe his vision of the radical shift in the coming decade that will change the way we think about digital displays: what they're capable of, what they're good for and how, at a fundamental level, they will impact our way of life.
His predictions are based chiefly upon new the forms of interactivity enabled by sensing, computation and networking integrated at the device level into future screens. But according to Underkoffler, most or all of the raw technology components necessary for the transition are already extant today in the form of the 'spatial operating environment,' the commercial platform that is the real-world successor to the gestural computing technologies envisioned in the film Minority Report (which, despite nearing its 10th anniversary, still provides one benchmark by which the evolution of display technologies is popularly measured).
Underkoffler will use examples from this unusual fictional-into-real User Interface design trajectory to sketch some of the field's most important and imminent advances, as well as their current and future impact on the world of digital signage.
Underkoffler leads Oblong Industries' technological vision. His foundational work at the MIT Media Laboratory included innovations in optical and electronic holography, novel animation systems, real-time computer graphics systems, large-scale visualization techniques, and the I/O Bulb and Luminous Room systems. In addition to the Minority Report, he has been science advisor to The Hulk, Aeon Flux, and Iron Man. He also is active on several boards and serves as adjunct professor in the USC School of Cinematic Arts.
Richard Lebovitz, educational director for Exponation, LLC, which produces DSE, says, "John Underkoffler's unique ability to envision how and where technology will take our industry, and the manner in which it will be transformed, promises to be both educational and exciting. DSE is pleased to be able to offer attendees the opportunity to hear a speaker whose observations will have a truly meaningful impact on the way they will be doing business in the future."
Digital Signage Expo 2012, co-located with the Interactive Technology Expo and Digital Content Show, is scheduled for March 6-9, 2012, at the Las Vegas Convention Center in Las Vegas. Registration for Underkoffler's Keynote address and all DSE 2012 educational conference seminars is now open. You can register here.