Blue Bite [1], New York, has partnered with San Francisco-based digital creative agency AKQA [2], specialist in interactive marketing, and Fuel Outdoor [3] to launch a mobile-focused, NFC-enabled out-of-home campaign for Old Navy [4].
[5]The major American clothing brand is looking to specifically target the mobile-savvy Hispanic demographic.
Leveraging Blue Bite's proprietary mTAG platform, Fuel Outdoor outfitted its bus shelters in Miami with both NFC and QR code capabilities. The interactive campaign connects smart-phone users with the brand by allowing them to simply tap or scan the mTAG- enabled posters to view exclusive content and customize their outfits using the brand's apparel.

"We launched this campaign to link consumers with out-of-home media at moments of maximum influence," says Daniel Trigub, vice-preident business development, Blue Bity. "The locations were strategically selected near Old Navy retail outlets with the intent of driving consumers into the store and path to purchase."
The NFC platform provides one of the simplest mobile interactions for consumers, as almost all NFC handsets are ready to engage out-of-the-box. To take advantage of the brand experience, they only need to physically tap the engagement zone without having to toggle any additional settings or download external applications.

"The coupling of mobile interaction, especially NFC, with out-of-home media, provides an effective, simple and economical way to connect brands to their target customers," says Trigub. "In addition, every engagement adds to the pool of valuable user data, which will allow for even greater targeting and accountability in future campaigns."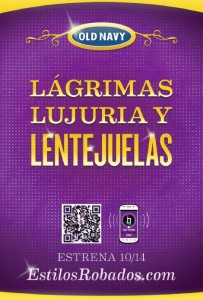 [6]Mikhail Damiani, CEO and co-founder of Blue Bite, says, "This launch is yet another example of the power of NFC and its ability to bridge the gap between out-of-home media and the mobile phone in a relevant and impactful way.
"We believe the continued introduction of NFC enabled handsets and mass-market adoption of the technology for media and payment applications will make this form of mobile marketing increasingly attractive for both consumers and advertisers going forward."
Marc Miller, president of Fuel Outdoor says, "We are always looking at new technologies to enhance our clients' campaigns and are excited about the integration of Blue Bite's NFC platform with our media for this campaign."
Fuel is active in nine of the top 15 DMA's and manages thousands of out-Of-home advertising faces nationwide.