Adrian J Cotterill, Editor-in-Chief
We heard rumours back in late October but now it seems that the famous John Wiley & Sons Inc. series of 'for dummies' books is complete with the publication of 'Digital Signs And Displays For Dummies'.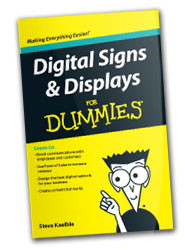 Digital Signs & Displays For Dummies was written by noted author Steve Kaelble. It joins the more than 1,600 'For Dummies' titles in print and published by John Wiley & Sons.
The book, we are told (we haven't received any early copies for review) outlines to marketing and communications professionals ways to target messages exactly how, where and when they want to deliver them.
The book also explains to readers how to generate dynamic content, manage key performance indicators and greatly improve corporate communications effectiveness.
Andy Cummings, the For Dummies Tech Publisher told us "Digital signage can be found everywhere – in stores, restaurants, corporate campuses and more – but many marketers still have not had the opportunity to learn the fundamentals. In Digital Signs & Displays For Dummies, expert author Steve Kaelble explains what digital signage is, how it works, and how you can get the most out of the technology,"
Among the topics readers can investigate in Digital Signs & Displays For Dummies are:-
The steps in designing a digital sign and display network, including how to go mobile
The keys to developing effective digital sign and display content that drives customer engagement
How organizations can get started with digital signs and displays
Ten secrets to maximizing success with digital signage and displays
Bizarrely, the book is available for free and can be ordered by clicking here.