Manolo Almagro, Q Division Managing Partner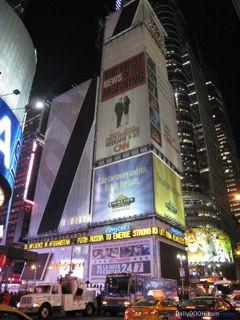 DailyDOOH was kindly invited to the OFFICIAL launch last night of The Walgreen's Spectacular at 1 Times Square in NYC and I was quickly the first to volunteer to go cover the event!
The Walgreens spectacular covers 17,000 square feet, sits 15 feet off the ground and rises 340 feet into the air.
Within the sign are 13 interconnected plasma screens displaying coordinated, dynamic content. A device called the TrueElement Control System is the proprietary backbone powering all of D3's LED displays.
The LEDs use a color-theory based diode placement array and special processing algorithms to maximize color output and brightness – this translates into every single diode in the LED array being able to display the full 16-bits of color data.
In order to synchronize the system, the Walgreens spectacular runs off 30 computers. Looking internally from one module to the next, there are 16.6 miles of cable, 6.5 miles of steel tubing end to end and half a million nuts, bolts and screws that hold the structure together!
The display contains 77 cabinets and the sign consumes 30 percent of the power originally calculated (about 1 megawatt)
Although this now sign claims to hold the title of 'largest and most advanced' I am not so sure I necessarily agree.
For example, it is indeed taller than, say the NASDAQ sign (shown below) but the Walgreens looks more like a racing stripe than a full-on display (like the NASDAQ) AND I am not convinced either that it surpasses the latter in surface area either.
Compare and judge for yourself as we show them side by side…
We also have a few short video clips up on Vimeo…
East Facade – LAUNCH of Walgreen's Spectacular in Times Square from manolo on Vimeo.
Walgreen's spectactular – Street Level Views from manolo on Vimeo.
Quick facts:
77 total cabinets
10,987 modules
250 thousand pounds total weight
Over half a million nuts, bolts and screws
More than 12 million diodes
Over 6.5 miles of steel tube used in the cabinets
Over 88,000 ft of power and data cables (16.6 miles)