Adrian J Cotterill, Editor-in-Chief
Inesa Klainman, Director of Marketing at Outform Ltd tells us that they have "some very exciting news about the future of digital signage to announce" at #ISE2012.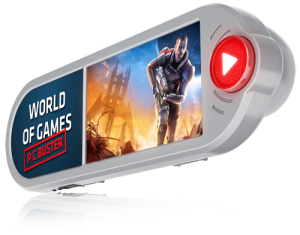 Why don't marketing and PR folks remember the axiom: 'Satisfaction = Expectation – Reality'.
Quite simply, the more you rave about how good something is going to be the harder it is to get the wow factor when people actually see what it is!
Back in September i DISPLAY announced the i SHELF 2, an Interactive Digital Signage Display Unit which we were told was specifically designed to meet retailer needs.
Now, if this (new) ground breaking announcement is also to do with retail it amazes us that they should choose #ISE2012 as a place to announce it (as i Display are allegedly a London based company then #ScreenmediaExpo would be a much better bet as a place to launch or announce).
Anyway, we digress, as we quite liked the i Shelf 2. It's a 7" digital shelf display that features a high resolution screen, has an extended battery life and includes a 'statistical usage data mechanism'?
The literature describes it as cost effective, user friendly and easy to maintain.
There's even a 'attention grabbing flashing LED activation button' (who writes this stuff?) that attracts shoppers to click and view a movie, or audio JPEG slideshow, of the retailer's product and promotional messages.
Ariel Haroush, i Display's CEO said at the time of the launch "The iShelf 2 has some great new features that address retailers and brands' needs. We realized that marketers need a better understanding of the in-store campaign effectiveness so we designed a statistical information tool to allow them to receive and analyze customer usage. In addition we extended the battery life thus reducing point of sale operational costs. Furthermore, we added a high resolution screen to improve the buyers shopping experience."
It operates cable free, using standard batteries and will fit conveniently onto multiple shelving configurations in any retail environment.