Gail Chiasson, North American Editor
There's a long dwell time in laundromats, a fact well-known to Rich Maddy, who has worked in that world since his parents bought a laundromat when he was young.
Now, after a career as an owner of laundromats and distributor of laundromat equipment, Maddy has launched
Clean View Network
which is putting DryerAds – interactive digital screens – into the front of laundromat dryers.
After six months of Beta testing, the product will be put into a full pilot program in 100 laundromats across the U.S. most likely in February 2012, using screens in both ADC and Maytag commercial machines.
Naturally, the two first questions we asked Maddy – who with his consultant Jimmy Schaeffler attended both the Strategy Institute's Digital Signage Investor Conference and the Digital Place-based Advertising Association's Digital Media Summit in October – were 'How the screens will be mounted?' and 'Won't they be affected by the dryer heat?'.
"The screens, which are Android-based, will be secured between the two panes of glass in the front of the dryers," says Maddy. "And we've had a dryer running 24-hours a day for 10 months straight as a test, with absolutely no problems with the heat. That's much more than a dryer would ever run consecutively in a laundromat."
Further, he says, they will be easy to service by distributor equipment staff.
Maddy, who has, to date, been self-financing the new product without angels or venture capitalists, had been developing his idea when he came across a book written by Schaeffler, Digital Signage: Software, Networks, Advertising, and Displays: A Primer for Understanding the Business, and discovered that Schaeffler lived 30 minutes from his Santa Cruz, California, home. Schaeffler has since been acting as a consultant on the project and is now a minority partner. Maddy knows the landromat business and its players – making it easier to deal with the equipment distributors – admittedly had to learn the digital out-of-home business, but has also been absorbing all he can from Schaeffler and other consultants and at conferences.
"For the pilot program, we'll be going into the 10 top DMAs plus Minneapolis where we have a laundromat equipment distributor so keen that he didn't want to wait," says Maddy. "We chose 100 out of 1,500 locations considered for the pilot."
The company is using Archos' Android-based screens and has been testing three software solutions in its Beta test with the final choice soon to be made.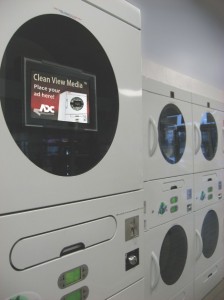 "We're using a 15-minute loop and are focusing on lots of interactivity with gaming (using smart phones as controllers), QR codes and various content including Laundromat daily news, Laundromat horoscopes, a feed from Accuweather, and advertising," says Maddy. "Gamers might win prizes such as laundry credits or something from a local advertiser. We recently ran a Pink Elephant promotion with a QR code in our Beta testing that went over well."
While Clean View has a small sales team, Maddy also expects to use aggregators for his advertising. Ads can be either full screen or go to one-third column width when the screen is being used for interactivity.
"We can use a long loop because of the average two-hour dwell time in laundromats," he says. "Laundromat users vary by region regarding ethnicity but are generally in the 18-34 age group and a mix of housewives, minorities, college students and single men."
Down the line, the company is also looking for partnerships with, eg, Netflix so that the screens could be used for movies. But that's for the future.
In the meantime, while Clean View Media Network will remain the corporate web site, plans are already underway for Laundronet.com, a related social media networking site which, while details are still in development, will contain a leaderboard for overall game winners and awarding a larger prize for the top winner at the laundromat.
"The consultants have been very helpful in developing the full offering," says Maddy.
We're staying tuned for the launch.