Samsung was very secretive last year about their transparent displays – in fact although we were invited to see them at ISE 2011 we were not allowed to take any photos. Subsequently they have demonstrated them at CeBIT2011 and LG showed some transparent LCD at #ScreenMediaExpo.
Now it seems that a small start up in Portugal is launching a transparent LCD that can also work as a mirror.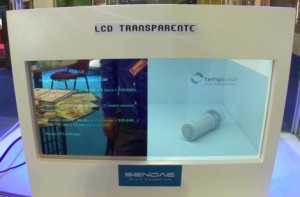 Specialising in transparent LCD displays, Sendae, has developed a product developed that combines a high-tech optically coated mirror film with the transparent LCD.
As we know, a transparent display blends nicely with its environment and it allows brands and companies to develop new ways to communicate with their target audiences.
According to Pedro Azevedo, General Director of Sendae, "Transparent LCDs are the most recent, cool, products in the displays market. We gave it an upgrade, opening new doors to their use. Shoes, Cosmetics, Perfumes, it is a question of imagination. Businesses can communicate with their target audiences in an original and impactful way. Due to our partnerships we can offer custom made, unique, solutions, with a very competitive pricing."
This technology is available with screen sizes of 22 and 46 inches.