Gail Chiasson, North American Editor
JiWire, location-based mobile media company reaching the on-the-go audience, has launched its Q3 Mobile Audience Insights Report, which examines connected-device adoption, location- and mobile-shopping trends, as well as check-in behavior and public Wi-Fi trends.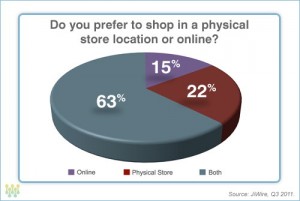 "We pull from different data sources to give us snapshots every three months, and right now the focus is on location," says David Staas, JiWire vice-president marketing. "People want to know about consumer behavior and how their location affects their purchasing decisions. This is considered a valuable resource for advertisers and agencies. Everyone likes to learn something new. It helps them explain their decisions and gives them topics to brainstorm."
This quarter's report uncovers several key emerging trends in the location and mobile markets that include the following:
Proximity Marketing – 66% prefer to purchase in a physical store within a five-mile radius;
Tablet adoption continues – Tablet usage is up 84% since Q4 2010;
Checking-in – Consumers are split evenly between liking, disliking and not interested;
Mobile Device Trends Adoption – iPad, Android and Windows Mobile 7 gain market share in the U.S and U.K.
In the midst of the U.S. holiday shopping season, the study looks at mobile-shopping behaviors between genders and also highlights consumer attitudes toward shopping online versus in store. Male consumers surpassed female consumers in the shopping department – 73% of males make purchases on their mobile devices compared to 61% of females. A consumer's proximity to a store significantly influences purchasing behaviors as well.
"We know that, for purchasing luxury goods such as expensive jewelry, people want to actually go into a store to see the product, so we looked at how people act when, says, only a $50 item is in their plans to buy," says Staas. "Location really does play a role."
Sixty-six percent of consumers prefer shopping for a $50 dollar item at a regularly visited store if within five miles; however, when the same consumers are 20 miles outside of the same store, 72% prefer making purchases on their laptop and mobile devices.
Other findings include:
18% are using a connected device to actually make purchases even when physically in the store;
28% of respondents said they comparison shop on a mobile device when in a store;
63% of consumers prefer to shop both in store and online; 22% prefer to shop exclusively in store.
"While consumers are increasingly using mobile to research and make purchases, we are seeing that the in-store shopping experience is equally if not more important, even with a tech-savvy audience," says Staas. "This holiday season, brands have a great opportunity to not only leverage digital and mobile, but also execute 'clicks-to-bricks' approaches to drive in-store traffic, utilizing location and proximity to deliver the right advertising experience."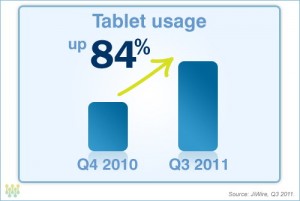 As people continue to become increasingly mobile and strive for constant connectivity, mobile-device habits have shifted from larger devices like laptops to smaller, more portable devices such as smartphones and tablets. Tablet usage has nearly doubled in the past year, growing by 84% since Q4 2010. Since last quarter, tablets and smartphones are showing relative growth in usage while other devices like netbooks and laptops have remained stable or declined. Tablet usage is up 20%, smartphone usage is up 24%and by comparison, laptop usage is down 10%.
Other key findings include:
Consumer purchase intent is 50% higher for smartphones and/or tablets compared to laptops over the next six months (25% versus 16%), continuing to
accelerate the shift in device ownership.
Adults 24 years old and under are more likely to purchase a smartphone and/or laptop in the next six months while adults between the ages of 25 and 44 are more likely to purchase a tablet.
Since inception, tablets continue to gain popularity with on-the-go consumers, having nearly doubled in growth over the past year. The study determined that the tablet audience is very comfortable making purchases on their device, purchasing items more frequently than just smartphone owners, and often spending more. For example, 82% of the tablet audience is willing to make purchases directly on their mobile devices – either their smartphones or tablets – compared with 76% of smartphone owners.

"In general everyone has a smart phone, but, as they purchase their tablets, it changes their habits," says Staas. "Tablets have bigger screens; they're easier to use; and they're closer to computers that people are familiar with."
Other purchase preferences include the following:
67% of tablet owners are willing to spend $50 or more, compared to 57% of smartphone owners and 52% of laptop.
Electronics, retail, entertainment and travel are the most frequently purchased categories, with tablet owners leading all of these categories in terms of purchase frequency.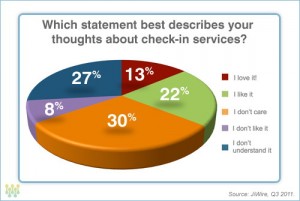 Despite all the attention and focus on 'checking in', (eg. to social media such as foursquare) the jury is still out when it comes to consumer attitudes around this component of location media. In fact, consumers are split three ways: 35% feel positive toward it, 35% either do not like it or understand it, while 30% do not care about checking in. Additionally, the primary drivers of this trend appear to be among males. For example, 39% of males claim that they 'like' or 'love' checking in while only 30% of women feel that way about checking in. Not surprising, the most popular check-in categories are restaurants, hotels, pubs/bars and health clubs.
The iPad, Android and Windows Mobile 7 are continuing to gain market share both in the U.S. and in the U.K., while market share continues to decrease when it comes to the iPhone and iPod Touch in both countries.
Additionally, the U.S. and U.K. both saw a drop in market share with the iOS – but in both cases, it's still #1.
JiWire's Mobile Audience Insights Report is based on data from approximately 315,000 public Wi-Fi locations, as well as surveying more than 2,000 U.S. customers randomly selected across JiWire's Wi-Fi Media Channel from July/11 to Sept./11. JiWire serves advertisements to over 30,000 public Wi-Fi locations in North America and it records data from every ad request.