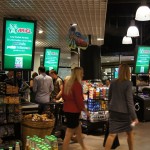 Digiboard, one of the largest DOOH network owners in Turkey, has signed a strategic cooperation agreement with hypermarkets giant Migros Ticaret A.S.
Migros, has more than 700 stores in 67 provinces in Turkey. The deal will see digital and static advertisement areas being implemented at Migros stores and Macrocenter across the country.
The project, which is currently being rolled out, includes over 600 Digiboard digital displays in 12 Macrocenter stores and 35 Migros stores as total 47 stores in Istanbul.
Within this scope, Digiboard Retail Network is a new sales channel that will reach nearly 300 million people annually. Approximately 2.500 additional screens are planned to be deployed in 250 stores in 2012.
The network deployment includes LCDs, VGA/UTP extenders and ceilings in order to minimize operational expenditures. Digiboard uses YCD's C-Nario  software and Minicom devices which enables for  real-time monitoring and reporting on the network DOOH and broadcast.
The implementation of DOOH screens takes the hypermarket chain a to a new dimension. Founded 57 years ago, in 1954, Migros was originally a joint-venture between Migros Cooperatives Union of Switzerland and Istanbul Municipality.
The aim of the joint-venture was to sell food and consumer goods from producers under Municipality control and to enable the citizens of Istanbul to access these goods in good condition and at economical prices. Before its first store was opened in 1957, Migros has a fleet of 20 mobile sales trucks which were it used to bring the goods to the consumer.
Now its digital screens will allow the company to again get closer to its customers bringing information and promotions across its stores.