Adrian J Cotterill, Editor-in-Chief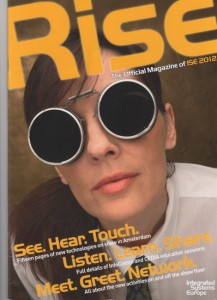 It wasn't until we noticed the pony tail that we realised that 'RISE – The Official Magazine of ISE 2012' did NOT in fact have a picture of a 1980's era David Sylvian on the front cover.
Yes, she's obviously a woman now we look twice (and a good looking woman to boot) but then so too was David Sylvian (good looking that is) – less I digress, but he was deemed by many of the UK's tabloid newspapers to be "the most beautiful man in the world" in the 1980's!
As Mike Blackman, Managing Director, Integrated Systems Europe says in the magazine's opening page "A bigger ISE, a bigger RISE" and the magazine, which at 66 pages is their largest yet.
RISE doesn't seem unduly padded out, it made a nice read and had a good mix of editorial and advertisements.
#DiSCO12 is discussed on pages 42 and 43 and has its own full page advert on page 52.
If you receive a copy in the post don't file, but spend some time reading through. It's well worth while.