There has been three years of falling U.S. vending machine sales, including a three percent drop in 2010, according to the 'State of the Vending Industry Report' published by Automatic Merchandiser.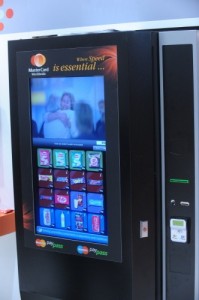 In an effort to buck this trend and help to accelerate vending sales, TouchGo Technology we are told supports several new vending machine innovations that increase customer engagement and the number of available customers.
One example which we saw at Mastercard's head office in Brussels (Visa also have one at their HQ in London) allows vending operators to serve more customers with contactless payment technologies, such as Visa payWave and MasterCard PayPass cards.
Both of these allow customers to 'Tap & Go', i.e. there is no pin number entry required.
TouchGo Technology, based on the University of Reading campus in the UK tell us that they can roll out a retrofit solution to any vending machine and that they are starting rollouts in January 2012 with two well known major brands.