Adrian J Cotterill, Editor-in-Chief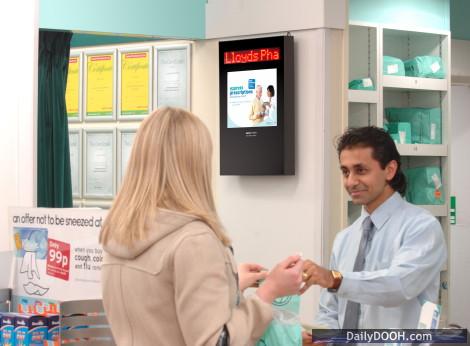 Amscreen's recent trial agreement with Lloyd's Pharmacy will get publicity because, simply put, Amscreen is "Sir Alan Sugar's digital signage company" and not surprisingly that fact was somewhat prominent in the latest press release.
The problem here though is that the installation looks horrible – perhaps one of the worst we have seen for many years and when the mainstream press pick up on the story, as surely they will, there is a danger that it over shadows the good work done in retail by others (and there are LOTS of really good installs happening all over Europe at the moment despite what people are saying about the 'recession').
The picture above shows Amscreen's digital advertising screens – basically 15" LCDs with LED tickers above them. We don't think that it is just us (and we know that you will comment) BUT they do truly look awful don't they?
The wider announcement itself is nothing to write home about – it's basically just a 'trial deployment' with Lloyd's Pharmacy (one of the UK's biggest pharmacy chains mind you) and for some reason there is a throwaway comment in the press release with regard the UK newsagent WH Smith (which actually doesn't say anything if you know what we mean).
When you think that the WH Smith / WH SCREEN travel network is HIGHLY regarded already – Liquid Digital (now part of Retec Interface) deployed and manage one of our favourite networks (despite the odd BSOD) – and abc media are also heavily involved with media sales as we wrote about only yesterday. there is probably no or little business to be had despite Sir Alan's reputation and contacts in the industry.
Anyway, the trial screens in the Lloyd's Pharmacy we are told "will carry advertisements and information for customers as well as promoting services such as blood pressure checking and NHS diabetes tests"
We doubt if Sir Alan has a 'reality distortion field' to rival our personal hero, a certain Mr Jobs, but we can only imagine that the folks at Lloyd's obviously got awestruck when dealing with Amscreen otherwise they would not have allowed a deployment like this anywhere near their stores – don't they realise that the enclosure (here a chunky black box) is as much of the branding as the content on the screens? Hasn't anyone told them that a 15″ screen is a little small to see from behind the counter? Hasn't anyone told them that the trend is for these things to look like posters and the screen to be oriented in portrait mode and not landscape?
David Harland, Head of Retail Planning and Future Pharmacy at Lloyd's Pharmacy said in the press release "We are pleased to be working with Amscreen on this project. We are always looking for ways to improve the customer experience and believe that Amscreen's products can help us with this."

Well David let us tell you, even a fleeting glance around the industry would see better installations than what you are trialling at the moment.