Adrian J Cotterill, Editor-in-Chief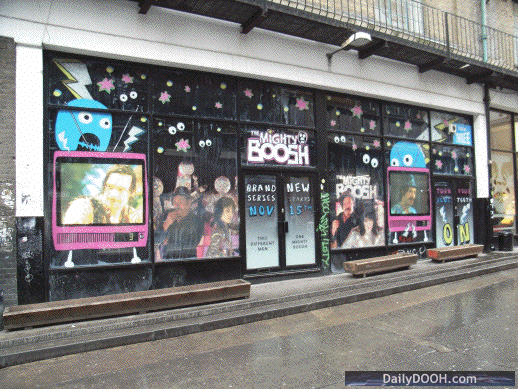 I have written about this before but just received a press release about it from Screen Technology Ltd. and as I also supplied a (nice) quote for the press release as well I just had to cover it again in a bit more detail (it's worth it trust me).
StreetLevelTV and StreetlevelBillboard – New concepts for High Impact, Outdoor, Digital Out of Home Advertising

Motomedia is a relatively small company making an incredibly big splash in cities around the world, with a new advertising concept which they term StreetLevelTV (not to be confused with StreetBroadcast's StreetLive product).

StreetLevelTV and StreetlevelBillboard takes advantage of unused shop front retail space. Motomedia negotiate a deal with the owners of the empty property and then turn it into an advertising street hoarding.

From the inside the windows are papered or more usually vinyled and two or more digital display screens are also placed in the window to play out moving content.

Motomedia's initiative and gung ho approach has seen prominent installations in the last few months in quick succession in London and New York – in shopping malls and high streets alike.

In New York they installed a very successful StreetLevelTV installation for Current TV.

Motomedia's most recent London installation was for the BBC and was used to promote the new series of the Mighty Boosh on the BBC3 channel.

In order to make StreetLevelTV effective, one of the prerequisites is to have a great moving image. Motomedia chose ITrans from Cambridge based Screen Technology Ltd.

The choice of ITrans was made because it offered Motomedia a large screen with a great resolution that worked in bright sunlight and offered a clear picture even up close.

Paul Bayley, Screen Technology Ltds' Chief Technology Officer and co-inventor of the ITrans technology points out that "up until now, LED digital screens were the only option for people who wanted a large screen that would also work in natural daylight. LEDs work well for example at the football ground where viewers are several metres away from the display – any closer and the screen is not readable due to the way pixels are used to make up the resolution of the display – ITrans is perfect in this shop front window environment where people can walk right up to the screen and still see everything perfectly"

Kenny MacLean added that he was impressed with ITrans also because of its ability, via tiling ITrans modules together; to make any screen shape so desired "ITrans does not limit us to standard portrait or landscape 16:9 and 4:3 screen sizes and shapes. We have a number of brands that we have demonstrated to that are keen to size a screen to better suit their purpose – full size, 6ft tall human size shapes for example for the fashion industry".

Motomedia have not stopped their innovation at the choice of digital screen either. Every StreetLevelTV venue uses audio supplied by Whispering Windows which allows them to nicely control the volume of sound out on the street (the shop window itself is used as a 'sound board').

Each venue also has Bluetooth and Mobile Phone connectivity, allowing the venue to interact with passers by. By the New Year, Motomedia plan to install Wi-Fi hotspots in every new venue, thus allowing a degree of Internet connectivity to passers by as well.

Commenting on StreetLevelTV, Digital Out of Home Industry analyst Adrian Cotterill said "I am amazed that no one had thought of re-using empty shop fronts like this before. Motomedia overnight have created one of the most exciting digital out of home categories – part guerrilla marketing, something made to be incredibly fun, part viral in nature, this medium is surely perfect for the hard to reach 18-30 segment and for those brands who want to do something completely different. I think that the brands, the advertising agencies and the media buyers will flock to this new market segment"
http://www.screentechnology.com/
I believe this particular Brick Lane tenure has either come to an end or nearing coming to an end. If you didn't get to see it personally, you missed out, the impact as you walk down the street has to be experienced to be believed. You are going to see these ITrans screens from Screen Technology all over the place in 2008 and I believe in some interesting shapes that you would not necessarily have first thought of. Motomedia, too, are one of my picks for digital companies to watch (worldwide – these guys are REALLY spreading their wings) in 2008.