Obsessed as we are with Blogger Lounges, press rooms and the like, a new (especially to us) concept crossed our path this week in one of the hundreds of emails we get with regard to #CES coming up in January.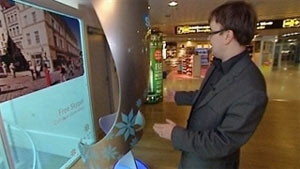 [1]The IEEE have a 'Skype station to global experts' available at IEEE's CES Booth #35883 in South Hall 4.
The idea being, according to their PR agency FINN Partners [2] that "they have experts available before, during and after the show" at the show itself but if "you want a global viewpoint, we'll have a Skype station to global experts."
The press release sold the expertise of the IEEE quite well (something that the DSF, DPAA and OVAB Europe could probably learn from), we quote "Whether it's mobile devices, the multi-screen environment, digital storage, connected CE devices or in-vehicle technology, IEEE experts are ready to give you an industry perspective and an understanding of what is happening (and even what will happen!) in the dynamic CE world."
Nice idea we think for shows.