Adrian J Cotterill, Editor-in-Chief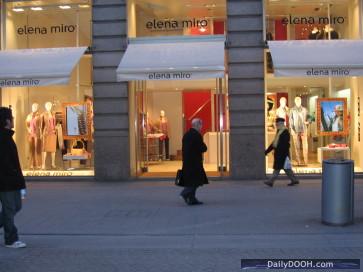 Prompted by meeting Bill Gerba at DS Asia 2007, I have been checking out the Wirespring installations in Europe to date. It seems that I already knew some of the 'players' involved, Artexe in Italy for example – I just didn't know enough about the infrastructure behind the deployments.
To start with, here are a few of the networks in Italy…
In-store music networks for the retailers Ermenegildo Zegna and TOD'S, and the Baglioni Hotel chain. With these three networks, music is provided by an audio specialist music company called "Music Architecture". A dozen or so of the Zegna stores also have street-level digital screens.
Two new digital signage networks; Natura Street (previously posted about) and the women's fashion group Miroglio-Vestebene.
And in Sweden
The Inbar network – comprising 50 of the trendiest bars and nightclubs in downtown Stockholm. The screens show the usual full-screen content, typically a mix of drinks advertising and lifestyle brands with entertainment clips.
Sweden's largest electronics retailer, Expert Stores, uses between one and 8 channels of digital content powered by FireCast in each of their large-format stores. The media players control discreet digital signs, many of the screens on sale in the store, and an HD video wall.
In Apollo travel agencies a single digital screen in each venue is used to advertise trip packages, highlight travel destinations and show general lifestyle/travel content.
Ring Up, a chain of mobile phone stores, use between 1-3 digital screenss in each location to advertise key products, new service plans, etc.