Adrian J Cotterill, Editor-in-Chief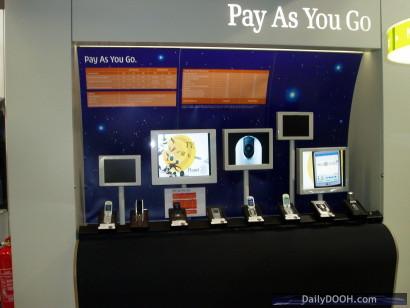 Realisation won a POPAI award for this content last month and if you are anyway near a 3 store ('Three' – The UK Mobile (Phone) Company) it's well worth popping in to have a look – in my opinion great content, lots of different size screens and quite a few different channels.
It's a self funded digital signage network (the retailer paid for the whole rollout themselves) and consists of dozens of screens in 137 retail stores in the UK and Ireland.
Originally announced as an off-line (USB key 'sneakernet') network back in Feb 2006 by Cabletime it has over the past 6 months grown to encompass the vast majority of the 3 store retail network – the content, if anything has got better and the network is now online.
Cabletime, since re-inventing themselves (many years ago) from a failed "let's be a television set top box" vendor like Pace or Scientific Atlanta are now better known for video and screen related corporate and real estate installations.
Back in Feb 2006 the 3 installation was their first foray into retail digital signage and to date still their only win in this sector. That's a shame because the installation is actually very good and their IP-based embedded Linux device approach (their Mediastar Evolution product) is well suited to the needs of the low-cost retail market place.
As I have said before on this blog, I don't believe that Cabletime yet understand non-corporate Digital Signage – this 3 network win, very good though it is, was one of those accidental wins for them – won by their AV installer AVE Systems (the A/V installer originally working with 3).
Embedded, non Windows devices I believe are the way forward with all large digital signage networks and yet there are not that many vendors on the market with good solutions.
Cabletime have a very nice offering and need to be selling this to retailers and advertising networks alike. I hope to see more of them in the digital out of home space but they will need to step up their marketing and work more closely with their retail focused AV installers for that to happen.
Definitions of sneakernet on the Web:

* The practice of sharing data by copying files to floppy diskettes, and walking them to another part of the office to load them onto another …
www.courts.state.ny.us/ad4/LIB/gloss.html

* Sneakernet is a term used to describe the transfer of electronic information, especially computer files, by physically carrying removable media such as magnetic tape, floppy disks, compact discs, USB flash drives or external drives from one computer to another. …
en.wikipedia.org/wiki/Sneakernet