Digital Attack is a young Argentinean company that creates creative installations for POS and digital signage in Buenos Aires. I met Juan Martinez and Javier Fuente, the company's founders to talk about what they do and what the state of the industry is in this latitude.
Unlike Brazil, where digital out of home networks are flourishing, Argentina is still in an embryonic state in this area. There are not big DOOH networks and most screens are concentrated in the centre of the city. However, if a company or an individual wants to but and rent out a billboard, they can do it – all be it if they have the right paperwork and political contacts.
The government has also put a stop to imports, which greatly damages the technology options available. There is also a cap on buying dollars.
Digital Attack has four full time employees, including Fuentes and Martinez, but most of its development work is done with international professionals.
"Contracting developers abroad does cost us about four times more than it would using local talent, but unfortunately there is little know how here and we need to use international resources," explains Martinez.
In recent months Digital Attack has formed partnerships in Brazil and Chile. The Brazilian company is Organiko, specialised on internet technology developments and the Chilean on, Viento Ink, focuses on mobile technology.
Buenos Aires has, the same as any metropolis, big brands. However, businesses are not yet convinced and buying into digital signage as means of advertisement and information for their clients.
Fuente says: " We are currently installing interactive displays at Chrysler's car showrooms. This is a very exciting project and the brand is rolling it out in all four showrooms in Buenos Aires. Using rear projection screens on the agency's windows, passers by can interact with the display which is motion activated. This project is the first on its kind in the city and we hope there will be many more like it. So far what we have been contracted to do is mainly pop-up promotions."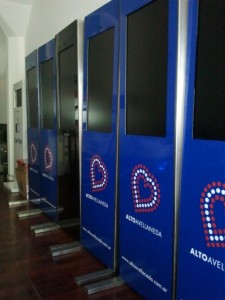 For Christmas, the company was asked to create a promotion for Alto Avellaneda Shopping centre. The project used totems fitted with a PC, a flat screen and a camera. For every $100, customers received a promotion card. With this card, they would go to the totems and, scanned by the camera, the system will randomly allocate a discount promotion.
"We had a total lead time of two weeks to develop this project," points out Martinez." We had to link our system to the shopping center's database – which wasn't the newest. The system will then capture the offers from the different retailers and allocate it randomly to the cards presented by the customers. The temporary installation counted with six totems. In these times of crisis, people really care about discounts. There were queues at the totems to see what promotion they could bag."
In Digital Attack's experience, once an exercise like this is carried out, it will not be repeated, which is a real shame.
For this year, the company has some more augmented reality project in the pipeline and it has also invested on a 40sqm LED screen, with a pitch of 7.5mm.
Fuente concludes, "Regulations about digital signage are not clear in Argentina yet. We bought the LED screen from a company in China and booked the space in one of Buenos Aires main highway arteries. We had a lot of red tape to go through but we are expecting to have the screen up and running within the next month."