Gail Chiasson, North American Editor
NCR Corporation (NYSE: NCR) this week announced that Century 21, a discount designer department store chain, will expand its use of digital signage to stores throughout the metropolitan New York area, including its flagship location in lower Manhattan.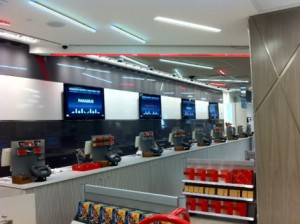 As part of its expansion, the chain will upgrade its digital signage software to the most current version of the NCR Netkey digital signage solution.
The chain made the decision to expand its use of digital signage in order to enhance the shopping experience for customers, by delivering informative, rich multimedia content. Another goal is to enhance the effectiveness and reach of its marketing programs, including its branded rewards program, as well as in-store promotions and discounts.
"Century 21 is an essential part of the New York shopping experience, and we look forward to applying the NCR Netkey product to further differentiate our stores, while better engaging our customers with marketing and other relevant information through advanced in-store technologies like digital signage," said Harry Roberts, chief information officer, Century 21 stores.
The latest version of the NCR Netkey digital signage solution will provide Century 21 with a foundation to drive this dynamic messaging to consumers, with simplified scheduling and administration.
It also gains a simple and intuitive means for store management or central office staff to create attractive and easy-to-read digital signage layouts, through a wide variety of pre-configured templates and widgets, such as weather, clock and financial/stock updates. Users also gain greater flexibility and more content management options through expanded playlist management, simplifying the delivery of more relevant store-specific content to consumers.
"Digital signage is a high impact means for retailers like Century 21 to better connect with shoppers," said Dusty Lutz, general manager of NCR's Retail Self-Service Solutions. "The NCR Netkey digital signage software will help Century 21 realize this goal by providing greater flexibility in content management, simplifying the design of digital signs and enabling high-quality, multimedia content."